ZACH WILLIAMS
He's a husband, a father, and has also become one of CCM's leading artists and songwriters by carving a niche with his singular blend of southern rock, country, and faith-filled songwriting, which quickly awarded him his first GRAMMY Award® with his debut album, 2017's Chain Breaker. With two additional GRAMMY nods among numerous other accolades, he now returns to share his boldly vulnerable and hope-filled sophomore album, aptly titled Rescue Story.
CHONDA PIERCE
Armed with an abundance of unpretentious Southern charm and laser sharp wit, Chonda Pierce has been entertaining audiences from coast to coast for more than a decade. Pierce has authored six books and has ranked among Pollstar's top-selling live performers.
KAREN KINGSBURY
Karen Kingsbury, #1 New York Times bestselling novelist, is America's favorite inspirational storyteller, with more than twenty-five million copies of her award-winning books in print. Karen is also an adjunct professor of writing at Liberty University. In 2001 she and her husband, Don, adopted three boys from Haiti, doubling their family in a matter of months. Today the couple has joined the ranks of empty-nesters, living in Tennessee near five of their adult children.
FRANCESCA BATTISTELLI
Blending elements of soul, alternative rock, gospel, and mainstream pop into her Billboard-charting songs, Grammy Award winner Francesca Battistelli began writing and performing her own material at age 15. A childhood immersed in music, dance, and theater prepared her for a future career on the stage.
Lori Salierno
Dr. Lori Salierno-Maldonado works as a passionate keynote speaker, is the author of several books and is the co-creator of the Teach One to Lead One philosophy. She is an avid spokeswoman for the cause of transforming at-risk youth into responsible citizens. Dr. Lori balances her time between the management of her successful non-profit organization and invitations to speak to audiences throughout the world. Dr. Lori lives with her husband, Jose Maldonado, in the Atlanta, GA area.
JAMIE IVEY
Jamie Ivey is the creator and host of the popular podcast, The Happy Hour with Jamie Ivey, a central gathering place for talking about life and Jesus. Jamie is an author, who shares gospel truths with raw-redemptive stories from her life. She loves to deliver God-empowering messages to women. Jamie and her husband, Aaron, live in Austin, Texas with their four teenagers and two dogs.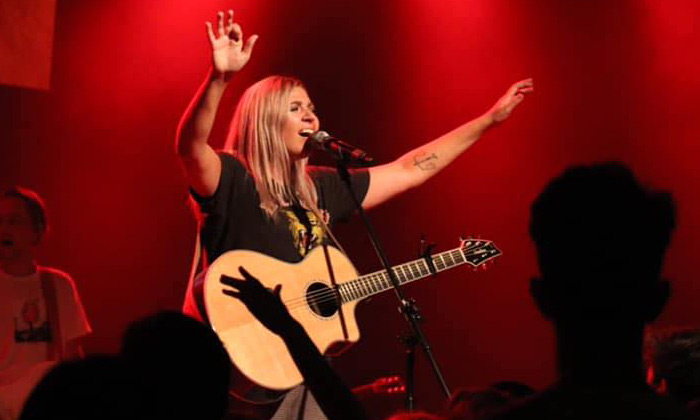 Favored Worship
Again this year, we have our amazing Favored Worship team that will be with us at every session, led by Abby Richmond and Kaetlyn Hight! We can't wait to join together for 3 days in praise and worship and be led by this awesome team!